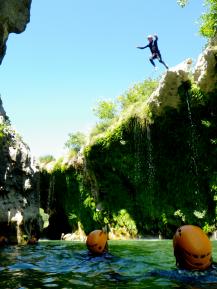 Hello and welcome all nature lovers and thrill seekers!
After more than 10 years of rambling and working for large companies in outdoor sporting activities in France, we have finally returned on home ground!!!!
Born and bred in the Languedoc Roussillon and having been to all corners of the region, we now want to share everything with you: the "real treasures" of nature that is!!
Rest assured that in outdoor sporting activities, our region is on an equal footing with all others in France. Together with our experience and faithful to our philosophy, we offer you to share intense sporting moments, in a friendly atmosphere and wide open spaces.
In short, the wild adventure, with the permanent concern for absolute respect of the natural environment. We offer a variety of outdoor sporting activities to help you discover our region:
Canyoning in the "Cévennes", canyoning on the "Caroux Massif" and canyoning in the "Hérault".
The discovery of majestic cliffs which are part of the climbing initiationin the Hérault as well as the most beautiful major big walls of the "Caroux Massif".
The ascent of Via Ferrata in the Cevennes as well as Hiking & Abseiling trip in the countryside around Montpellier.
We can help you experience rock climbing and abseiling in a safe and informative environment.
The climbing can be outside on a local crag or inside at a climbing wall depending on your preferences and is a perfect adventure for an activity weekend.
If you are looking for an original sport, you have just clicked on the right page =)
For further information and reservations, please feel free to contact our team of instructors!
We will answer your questions, proposals and ideas with pleasure and professionalism!
Remember to visit our "partners" section! They are friends and colleagues from all over France and they are all great people!
---
Map of our sporting activities in the Languedoc

Canyoning

Climbing

Via ferrata

Hiking & Abseiling
Veuillez patienter pendant le chargement de la carte...